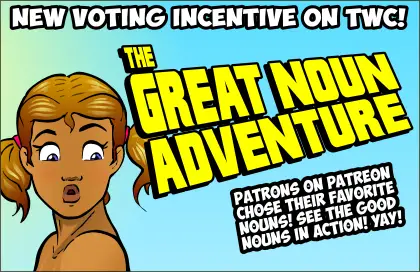 NOUNS ARE BACK!!! REVENGE OF THE NOUNS!!!
Over on Patreon, my top-tier patrons suggested nouns and we had a big battle royale between them, with the victors getting the most votes … and here are some of those glorious nouns in picture form.
As for this comic…
This one took forever and a day to make. Not sure why. I guess it just comes down to the number of characters per panel. But boy am I tired.
For the record, I am a big Macaulay Culkin fan and quite enjoy the wry, ironic online presence that he's developed over the past decade. Every time he appears in any Red Letter Media videos, my world becomes a slightly better place.
On another front, it appears that Satan is a big A Tribe Called Quest fan. Because Q-Tip already told us all about industry rule #4080.