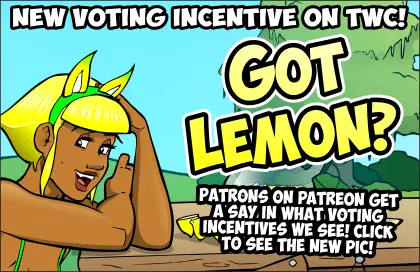 JULY INCENTIVE ON TWC!!!
It's fresh and summery and it's something to do with lemons or something. I dunno.
VOTE TO MAKE A TALL, COOL GLASS OF PIEMONADE!!!
As for this comic…
I had to seriously think about what word I used to refer to that big blue thing in this comic. Because I know that (alas) someone somewhere is going to get angry with me no matter what I call it. To some, it's a sofa. To others, it's a couch. And to a very small number of very old Canadians, it's (wait for it!) … a chesterfield. Seriously.
In my neck of the woods, we use 'couch' and 'sofa' interchangeably. But in the end, I went with 'couch'. Because Americans like that word. Please tell me how wrong I am in the comments.