Puck 714
on 
July 31, 2023
at 
11:37 pm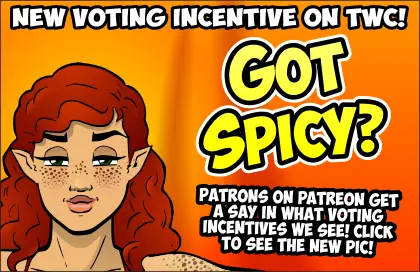 AUGUST INCENTIVE ON TWC!!!
It's spicy. We're doing a flavor thing. I dunno. Just go with it.
As for this comic…
Long-time readers will remember that this isn't the first time Tracee has worn/stolen Phoebe's robe. It's like poetry. It rhymes.
Eagle-eyed readers might wonder why Puck is drinking coffee and Miranda seems to be eating some sort of cereal-type substance at 3 pm. And to answer that, I say Puck drinks coffee at all times of the day, and toddlers often would exclusively subsist on Cheerios if given the choice. But honestly, I don't have an explanation. I don't even have the excuse of "it was going to be the morning but then I changed the script". No, it was always going to be the afternoon and yet this is what I drew. I don't think my drawings through sometimes.