Puck 713
on 
July 25, 2023
at 
12:33 am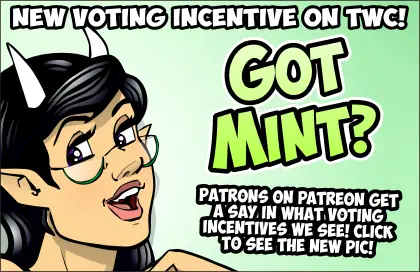 JULY INCENTIVE ON TWC!!!
It's fresh and summery and it's something to do with mint or something. I dunno.
As for this comic…
Ugh. This comic required that redraw the room from a few new angles. That really lengthened the process a bunch. But it was necessary. Panel three really distorts the space to make the room look huge, but it's needed to really communicate the isolation of that corner. Honestly, the rooms in this house seem to really vary in their dimensions depending on the needs of the story. Funny how that works.
It also seems like Satan has developed a taste for Dr. Spicy. Oh how the proud have been humbled.