Puck 723
on 
October 2, 2023
at 
9:39 pm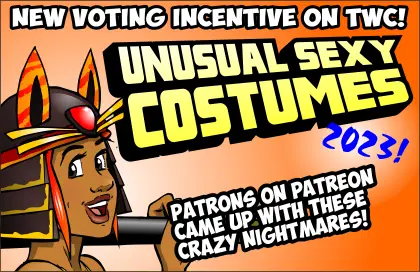 HALLOWEEN INCENTIVE ON TWC IS HERE!!!
It's a return to form as we explore the types of ridiculous costumes you might never find at the local Spirit Halloween store!
As for this comic…
This might be the longest run of comics not to feature any female characters in-frame. Even with the nerd shop comics, I've always put Emily in the background for variety. But no such variety here. Just dudes. Dudes being dudes. How quaint.