Puck 722
on 
September 25, 2023
at 
8:52 pm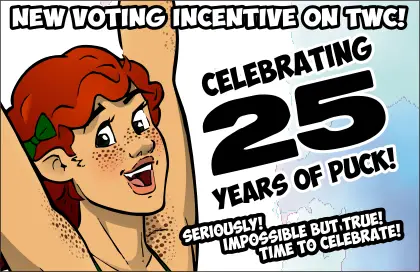 SEPTEMBER INCENTIVE ON TWC!!!
So yeah, as unbelievable as it is, we're celebrating 25 years of Puck! This stupid comic was started a quarter century ago by some dumb teen. Now that teen is old and has back pains and the comic is still somehow going. Let's celebrate!
VOTE TO CELEBRATE GOOD TIMES!!!
As for this comic…
Looking at Colin's face in panel four, he knows what he's doing. First hit is always free.
The game that Colin is playing, coincidentally, is Bayonetta. (Maybe Bayonetta 2, possibly Bayonetta 3, though fewer angels get their wings ripped off in that one.) I won't bore people with my personal history with the game series, but this much I'll say: it's certainly the kind of thing that Satan could get behind. And those who REALLY know the game will pick up from the Enochian incantation that the particular demon Bayonetta is summoning here is Gomorrah. Simple but classic.