Puck 729
on 
November 13, 2023
at 
10:34 pm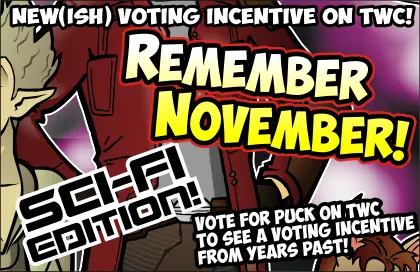 REMEMBER NOVEMBER IS TAKING YOU BACK TO THE PAST!!!
It's a trip to incentive pics of the past! This time we're specifically going with a sci-fi theme. A 'new' old incentive pic will be popping up periodically this month, so…
As for this comic…
Many people were theorizing on the names of the crows in the comments section of last week's comic. And while there were many cool ideas, the plan was always to go with the names of figures from the 90's dance scene. Part of my motivation is due to the fact that it just makes sense for Phoebe. Also, more animals are on their way, and they'll all need names, so … I have a healthy roster to choose from.
After doing a cursory Google search, I discovered that Chris Sheppard was one of those Canadian music celebrities whose fame never extended beyond the borders of the Great White North. Oh well. That's just a loss for the rest of the world.
And for those of you who think you don't know who Martha Wash is, you do. You definitely know her voice, at least. Woman is a legend.