Puck Stickterlude 2
on 
April 22, 2013
at 
9:43 pm
The craziness continues in my life, and stick Puck continues to set the artistic bar rather low. As I said last week, it's better than a hiatus – and quite possibly just a little bit funnier than the regular Puck comics.
Real Puck will return soon enough, once Stick Puck's storyline has been concluded. I'm actually going somewhere with this … sort of.
APRIL VOTING INCENTIVE! APRIL SHOWERS BRING … FULL FRONTAL NUDITY!!!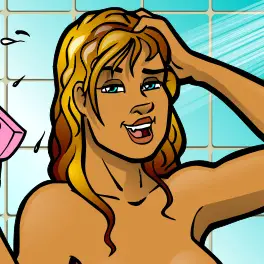 It's April, and that means another Puck voting incentive on TWC! This time we're going whole hog! It's all coming off, with Tracee! She's evil, she's hot, and she's getting clean! Seriously, how has this chick NOT gotten her own voting incentive yet?
I had some troubles uploading this image to TWC, but I think I've got them fixed now.
This particular voting incentive is no longer up on TWC, but you can GET IT AT THE STORE, along with all the other incentives, for a few bucks!