Puck Stickterlude 4
on 
May 6, 2013
at 
9:21 pm
I know that I theoretically started this stick comic gag as a means of saving time, but this particular strip took me more time than I'd like to admit. Just generating those Colin sprites was a rather epic task of fiddling and experimentation. I'm really happy with the results, though. And the manga Daphne is just so very, very wrong that she's crossed over and become very right.
Real Puck will return soon enough, once Stick Puck's storyline has been concluded next week. I'm actually going somewhere with this … sort of.
MAY VOTING INCENTIVE! MAY THE FOURTH BE WITH YOU – NEW INCENTIVE EVERY WEEK!!!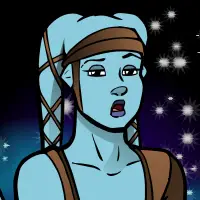 It's May, and it's time to get seasonally appropriate by ringing in May the Fourth in traditional Star Wars fashion. This year we're going new school, with costumes from the new(ish) movies and the Clone Wars TV show. A new costume is dropping every single week. The first May voting incentive pic has already passed us by, so vote now or you'll miss this one!
This particular voting incentive is no longer up on TWC, but you can GET IT AT THE STORE, along with all the other incentives, for a few bucks!