Thus concludes the stick figure Puck saga. Not sure if it's ending with a whimper or a bang, but it's what you get. Nothing says 'fresh' like jokes ripped from 60 year old Looney Tunes cartoons! Those of you who are wondering how Satan is messing with the fiber of his own universe from within the confines of that universe are, quite frankly, thinking WAY too hard about this.
And now comes the REAL challenge: I now have to produce real Puck comics over the next few weeks, which promise to be the most harrowing, busy weeks of my life. Just to give you guys a heads up, I might miss an update or resort to guest comics or something. It's been a bad few months, but my time constraints will be over soon. I hope.
MAY VOTING INCENTIVE! MAY THE FOURTH BE WITH YOU – NEW INCENTIVE EVERY WEEK!!!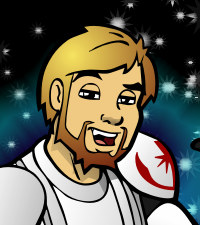 It's May, and it's time to get seasonally appropriate by ringing in May the Fourth in traditional Star Wars fashion. This year we're going new school, with costumes from the new(ish) movies and the Clone Wars TV show. A new costume is dropping every single week. The first two May voting incentive pics has already passed us by, so vote now or you'll miss this one!
This particular voting incentive is no longer up on TWC, but you can GET IT AT THE STORE, along with all the other incentives, for a few bucks!