Puck 202
on 
September 30, 2013
at 
9:19 pm
You don't see this on television or in the movies much, but right after a woman gives birth, there's not really a dramatic change to her shape. She still looks pregnant; she just looks … less pregnant. In many cases, though, the dramatic change does occur over the following week or two. For my wife, she was actually back to her original weight and wearing her regular clothes by the time she left the hospital. With the first kid, anyway.
NB: Miranda has her hat pulled down over her eyes, making her look a little like Donald from the old Fat Albert cartoon show. My son did this all the time when he was a newborn. He'd somehow pull the hat down every time we put one on, like he preferred it that way. It's just one of those weird little details from real life which I felt I needed to include.
NEW OCTOBER VOTING INCENTIVE: THE SAUCY PUCK HALLOWEEN COSTUME!!!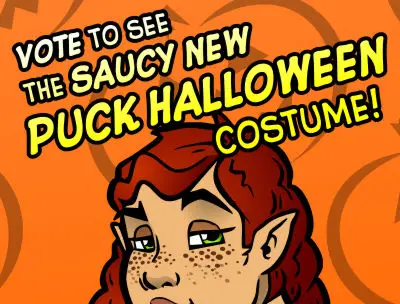 Halloween approacheth, and that means an outrageous Puck costume is coming your way! What kind of Puck costume? Well, vote for Puck on TWC and find out! (The new voting incentive drops October 1st, so if you're quick off the mark for checking this post, you might have to wait a few hours for the month to turn over.)
CLICK HERE TO VOTE FOR PUCK!!!