Puck 203
on 
October 7, 2013
at 
8:47 pm
I suppose some people have had positive, wonderful experiences with lactation consultants. My wife and I are not those people. We've had problematic encounters with the more militant end of the pro-breastfeeding world. (And if you weren't aware that the breastfeeding world had a militant end, you've never talked to members of the La Leche League. Seriously, they have a league, man. A league.
Crazy accents are the height of comedy, are they not? I did my best to accurately depict the … um … Brogdoslavian speech patterns. Totally believable.
OCTOBER VOTING INCENTIVE: THE SAUCY PUCK HALLOWEEN COSTUME!!!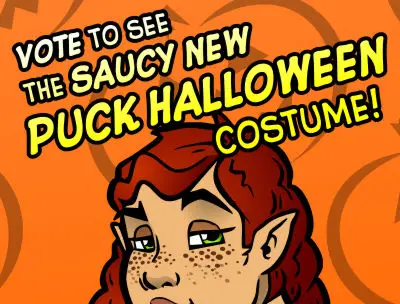 Halloween approacheth, and that means an outrageous Puck costume is coming your way! What kind of Puck costume? Well, vote for Puck on TWC and find out! (The new voting incentive drops October 1st, so if you're quick off the mark for checking this post, you might have to wait a few hours for the month to turn over.)
CLICK HERE TO VOTE FOR PUCK!!!