Puck 213
on 
December 23, 2013
at 
9:52 pm
True story. I actually spent many a night with my second kid at the all-night Tim Hortons in Ancaster, trying to get her to sleep while watching A-Team reruns on my laptop.
Oh, and I still have my university hoodie, just like the one Colin is wearing. It's in pretty good condition too. I only put it on when I'm cold and vulnerable.
NEW DECEMBER VOTING INCENTIVE: SEXY ELF SHOWDOWN?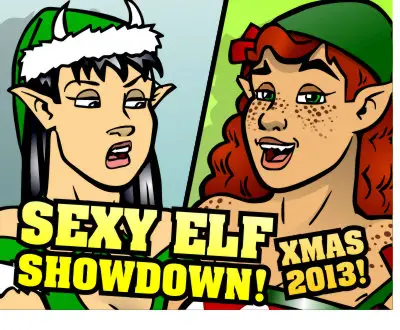 Hey, thanks to your votes last week, Puck climbed back up to a respectable rank on TWC! If you haven't seen the sexy elf thing yet, then CLICK HERE TO VOTE FOR PUCK!!! VOTE IT UP, DAMNIT!
Oh, and if you didn't hear the news…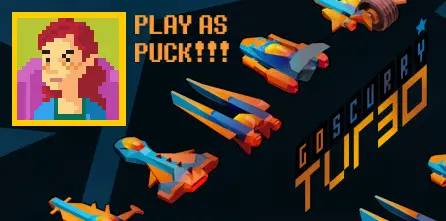 My good friend Daniele Giardini, an Italian video game designer, just put the finishing touches on his indie game, GOSCURRY, and he actually put Puck in the game as one of the avatar choices for players! This makes Goscurry the first video game to ever feature Puck! It's only six bucks, and it's an insanely good game! It's the hardest fair game ever made, in my opinion. HARDEST. FAIR GAME. EVER.
So to put it simply, guys, buy it. It's a great game with endless play value and an insanely catchy soundtrack. And I'll see YOU on the LEADERBOARDS. (Let me know if you beat my high scores. I challenge you to beat them!)