Puck 221
on 
February 17, 2014
at 
9:47 pm
Those of you who have been through the whole archive will know that this strip marks a rather rare alignment of the stars: never have Phoebe and her father actually been featured together in the same panel until now. It had to happen sooner or later.
On another front, those of you who are familiar with Hamilton (a small number, I'm sure) will recognize Satan's house as Dundurn Castle, one of the more famous landmarks in the Hamilton area. In reality, Dundurn Castle (really more a super-huge mansion than a castle) is owned by the city. It was built in 1835, and it's tricked out in period furniture and décor. It's a great place to tour, get wedding photos, or get you Downton Abbey mojo going on. In my alternate reality, I guess Satan bought it from the city and turned it into 18,000 square feet of evil luxury.
NEW FEBRUARY VOTING INCENTIVE! COLIN'S TICKETS TO HALF-ASSED ROMANCE!!!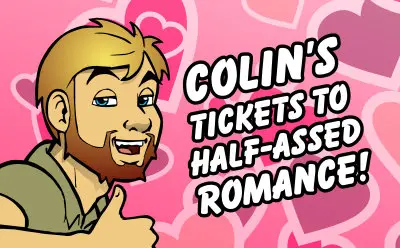 Hey fellas! Are you stumped on what to get your lady-type friend this Valentine's Day? Why not give her one of Colin's Tickets to Half-Assed Romance? Vote for Puck on TWC to check it out! And let the self-styled 'Love Doctor' give you a prescription!
CLICK HERE TO VOTE FOR PUCK!!! I'LL BE YOUR FRIEND!
Also…