Puck 222
on 
February 24, 2014
at 
8:44 pm
I could probably come up with hundreds of gags involving the stuff you'd find in Satan's mansion, but I think I'll limit myself to this one. (Well, maybe one or two more.)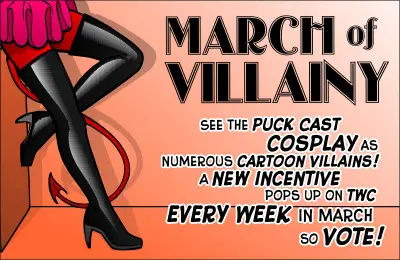 NEW WEEKLY VOTING INCENTIVE! MARCH OF VILLAINY!!!
A different Puck character cosplays as a famous cartoon villain … every single week in March! Now I know some of you have given me flack for going all retro on you too often, so this time I'm making it all about prominent cartoons from the post-millennial decade!
CLICK HERE TO VOTE FOR PUCK!!! IT'LL GRANT YOU TEMPORARY INVULNERABILITY TO METEOR ATTACKS!