Puck 223
on 
March 3, 2014
at 
10:30 pm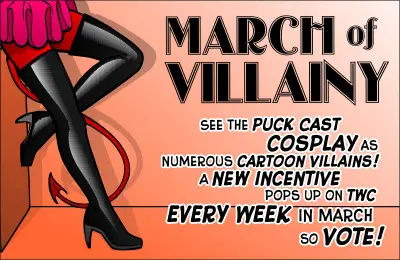 NEW WEEKLY VOTING INCENTIVE! MARCH OF VILLAINY!!!
A different Puck character cosplays as a famous cartoon villain … every single week in March! Now I know some of you have given me flack for going all retro on you too often, so this time I'm making it all about prominent cartoons from the post-millennial decade. Just for the young'ns!
CLICK HERE TO VOTE FOR PUCK!!! IT'LL GRANT YOU TEMPORARY INVULNERABILITY TO METEOR ATTACKS!
As for this comic…
Puck wasn't the only one who didn't know Colin's last name until now. In preparation for this one, I had to give Colin a last name. Then, about a week ago, I suddenly developed a strong hunch that he already had a last name, and that it was stated only once on the old website or in one of the old comics. I also seemed to remember that it was 'MacTavish' (or 'McTavish') but I couldn't prove anything. After carefully poring through all of the available documentation, however, I found that no last name had ever been mentioned for the poor guy.
So one glaring hole in the continuity has now been addressed. Though I don't think it was a hole that bothered anyone, because I never once had anyone ask what Colin's last name was. It seemed fitting to me that Puck never bothered to ask that question either.
Upon seeing this comic's visuals, my wife's eyebrow raised. "That's a whole lot of argyle," she noted.
"Too much argyle?" I asked.
"For me? Yes. For Puck? No."
I guess that means I'm on the right track.