Puck 224
on 
March 10, 2014
at 
9:21 pm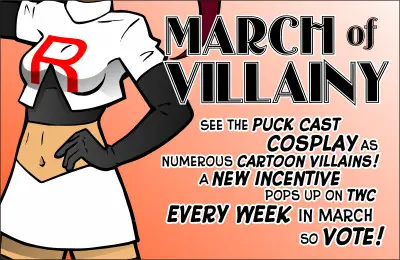 NEW WEEKLY VOTING INCENTIVE! MARCH OF VILLAINY!!!
A different Puck character cosplays as a famous cartoon villain … every single week in March! Now I know some of you have given me flack for going all 80's retro on you too often, so this time I'm making it all about prominent cartoons from the post-millennial decade. Just for the young'ns!
CLICK HERE TO VOTE FOR PUCK!!! IT'LL GRANT YOU TEMPORARY INVULNERABILITY TO METEOR ATTACKS!
As for this comic…
On the topic of Phoebe's room, I had a lot of cool, crazy details that I wanted to work in, but the panel size, angle and general composition of the strip made it impossible to include them or have them fully visible or recognizable. Such details included:
-a Victorian birdcage full of feather boas
-even more useless drapery with lots and lots of tassels
-some sort of stuffed tiger
-lots and lots of mirrors with gilded frames
-a Klimt print
Okay, maybe not the last one, but the rest are good ideas. They'll have to wait for future comics, I guess.