Puck 225
on 
March 17, 2014
at 
8:45 pm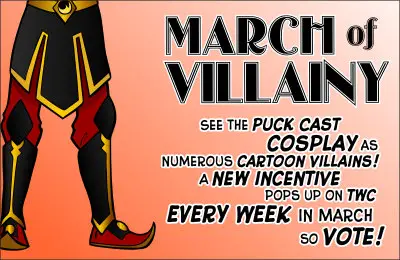 NEW WEEKLY VOTING INCENTIVE! MARCH OF VILLAINY!!!
A different Puck character cosplays as a famous cartoon villain … every single week in March! Now I know some of you have given me flack for going all 80's retro on you too often, so this time I'm making it all about prominent cartoons from the post-millennial decade. Just for the young'ns!
CLICK HERE TO VOTE FOR PUCK!!! IT'LL GRANT YOU TEMPORARY INVULNERABILITY TO METEOR ATTACKS!
As for this comic…
I want to make it clear that that Sin-ee-os just taste like original sin. Daphne is not compromising her eternal soul by eating this cereal, no matter how delicious it is. (Or to be more accurate, she's not compromising her eternal soul any more than it already was before this.) Besides, if we're going to be theologically in line with standard Christian doctrine, you're born with the blight of original sin just by virtue of being human. Then again, I'm not sure whether Daphne qualifies as human.
Let's just all agree that this whole comic is doctrinally confused and inaccurate and leave it at that.
I seem to keep spending inordinate amounts of time designing different elements that become barely visible in the final image. The Chinese dragon on Phoebe's top? Hours of work. Ditto the cereal box design. Oh well. C'est la vie. I'm firmly of the belief that someone out there somehow appreciates these things, even without totally being able to see them.