Puck 227
on 
March 31, 2014
at 
9:58 pm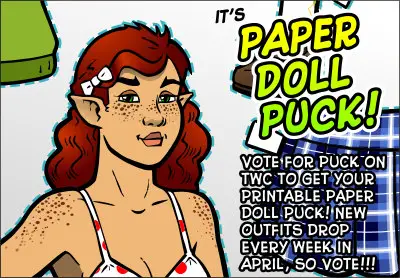 NEW WEEKLY VOTING INCENTIVE! PAPER DOLL PUCK!!!
Starting April 1st, a vote for Puck on TWC gets you access to printable Paper Doll Puck! It was all the rage in Victorian England, and that's what I call a recommendation! A new outfit pops up every week in April, so VOTE!!!
CLICK HERE TO VOTE FOR PUCK!!! IT MAY OR MAY NOT EARN YOU A STUFFED BEAR!
And as for the comic…
Sometimes I'm not proud of how a strip turns out, but I am reasonably proud of this one. I'm always pleased when the joke is carried almost entirely by the 'acting' in the comic. To be honest, it's hard to manage subtle comedic acting with semi-realistic character models. Rage and extreme exaggeration are easy, but this sort of exchange can be hard to visualize. With that in mind, I'm particularly happy with Tracee's slow burn here.