Puck 228
on 
April 7, 2014
at 
9:53 pm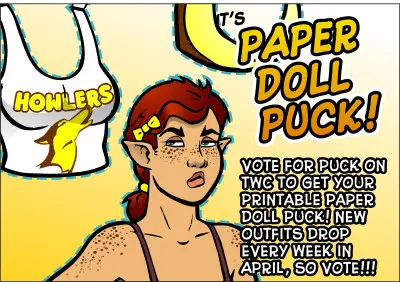 NEW VOTING INCENTIVE! PAPER DOLL PUCK – THE HOWLERS EDITION!!!
This week, a vote for Puck on TWC gets you access to printable Paper Doll Puck – Howlers edition! Make Puck dress up as the ungodly Howlie, or the even ungodlier Howlers 'uniform' which she refused to wear.
CLICK HERE TO VOTE FOR PUCK!!! IT MAY OR MAY NOT EARN YOU A STUFFED BEAR!
And as for the comic…
This one took me for-freakin-ever to finish. Sometimes I really, really hate my method of creating these things. Way too much labour involved for such paltry results. But it is what it is, I guess.
For those non-Canadians who might not be familiar with the term 'tonsil hockey', I'm sure you can figure it out.