Puck 229
on 
April 14, 2014
at 
9:20 pm
NEW VOTING INCENTIVE! PAPER DOLL PUCK – VINTAGE EASTER EDITION!!!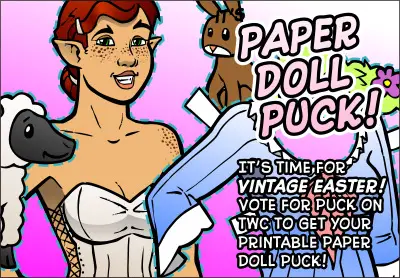 This week, a vote for Puck on TWC gets you access to printable Paper Doll Puck – Vintage Easter edition! Crack out a bonnet and some petticoats, then toss in a few adorable spring-themed animals for good measure!
CLICK HERE TO VOTE FOR PUCK!!! IT MAY OR MAY NOT EARN YOU A STUFFED BEAR!
And as for the comic…
One word:
Ew.