Puck 235
on 
May 26, 2014
at 
10:17 pm
I'm just going to say this: though Canada is a rather multicultural place, and is widely known for its tolerance and its diversity, when you go out to the more rural areas and small towns of Canada, you'll find the people there are racist as f#$%. Being a city boy and growing up in a rather diverse neighbourhood, I find this very difficult to deal with and sometimes I feel a very Puck-like desire to punch people in the face.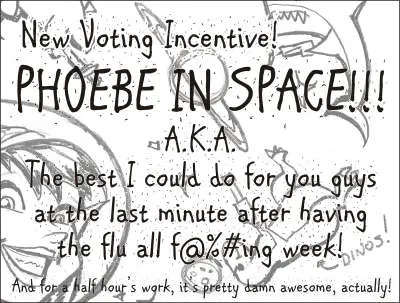 NEW VOTING INCENTIVE: PHOEBE IN SPACE!
So yeah, I came down with a wicked case of the flu all week, running a scarily high temperature and all that, so I didn't get around to doing a voting incentive. Once I got better, though, I dedicated the duration of two 'Game Grumps' episodes to the creation of this … er … masterpiece. In HB pencil! With glorious no color!
To be honest, on a labor-to-satisfaction level, I do think this picture kind of rocks. Yay for cramming at the last minute!
CLICK HERE TO VOTE FOR PUCK!!! IN SPACE! WITH SHARKS!