Puck 241
on 
July 7, 2014
at 
9:16 pm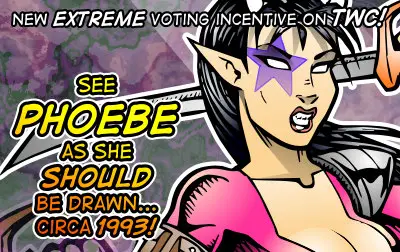 NEW JULY VOTING INCENTIVE: PHOEBE GOES EXTREME!!!!!!
Have you ever wanted to see Phoebe reinterpreted as an Image comic circa 1993? Of course you didn't! And that's why I'm here to make your non-dream a reality! A vote on TWC gets you a glimpse of Liefeld-level majesty! Check back every week this month as I 90's-ize all of the primary Puck characters!
CLICK HERE TO VOTE FOR PUCK!!! WE'RE TALKING BADLY DRAWN BOOBS HERE!
As for this comic…
The next few comics delve (lightly) into Phoebe's history, which is a subject readers have expressed interest in.
It is my firm belief that 'winning' people (whether that winning factor comes from looks, athleticism, money, charm or all of the above) often turn out to be obnoxious human beings unless they taste what it's like to be a loser at some point in time in their lives. Whenever I meet an alpha-type adult who is also considerate and kind, I often find that they grew up poor, or awkward, or ugly, or shy, or all of the above.
That's not to say that you can't be a winner from birth and turn out a decent human being, of course. It does happen. But it's an uphill climb.