Puck 242
on 
July 14, 2014
at 
9:14 pm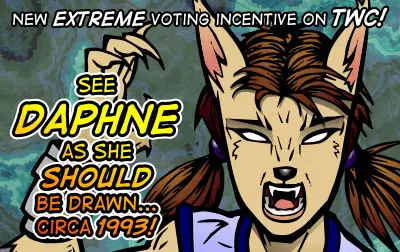 VOTING INCENTIVE: DAPHNE GOES EXTREME!!!!!!
The Liefeldian Daphne is now up! Go vote on TWC to see the best of what the 90's has to offer!
CLICK HERE TO VOTE FOR PUCK!!! WE'RE TALKING BADLY DRAWN BOOBS HERE!
As for this comic…
Really not much to be said. I am aware that the significance of this revelation loses its potency if you don't know who Elizabeth Taylor is, and I'm sure some insanely large percentage of my readership doesn't know who Elizabeth Taylor is, but I don't care. She's only quite possibly the second most famous actress ever to come out of Hollywood. Google her.
Those who do know who Elizabeth Taylor is will be wondering about the logistics of all this, but it'll be explained soon.
I was on the fence whether to have the portrait out of frame, or whether to actually try my hand at drawing a real person adapted into the Puck style. In the end I opted to be brave, though I'm not entirely sure the result is a success. Oh well. When you're trying to draw one of the most beautiful women the world has ever produced, you have to expect some level of failure, I guess.
Oh, and in other news, there's been a bunch of new Puck fan art sent my way, including a bikini-clad Puck pinup! SEE IT HERE if you haven't already!