Puck 243
on 
July 21, 2014
at 
10:34 pm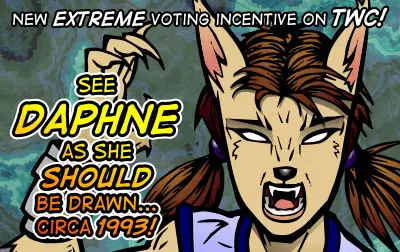 NEW VOTING INCENTIVE: DAPHNE GOES EXTREME!!!!!!
The Liefeldian Daphne is now up! Go vote on TWC to see the best of what the 90's has to offer!
CLICK HERE TO VOTE FOR PUCK!!! WE'RE TALKING BADLY DRAWN BOOBS HERE!
As for this comic…
I sometimes write jokes that maybe only five people on the planet will find funny. This is one of those. For those who don't know, Richard Burton was an actor who famously married Elizabeth Taylor … twice.
For those of you who are wondering about the nature of the 'ruse' mentioned in panel one, I don't really have any answers. Makeup? Magic? Who knows? It's Hollywood, man. They're creative.
Initially my concept was that Taylor would have sold her soul to the devil for eternal youth, but that didn't sit right with me. What I know of Elizabeth Taylor tells me that she would not sell her soul to the devil for anything. She would, however, marry him and give it an honest try before divorcing him a few years later. She'd totally do that.