Puck 256
on 
October 20, 2014
at 
9:50 pm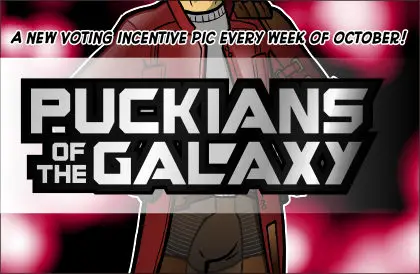 New Weekly Voting Incentive: PUCKIANS OF THE GALAXY!!!
In the spirit of Halloween, the Puck gang are celebrating the second most entertaining movie of all time (almost beat the Blues Brothers for my number one spot!) in crazy cosplay fashion! The first one's already gone by, so don't miss this week's!
CLICK HERE TO VOTE FOR PUCK! A VOTE FOR PUCK IS A VOTE NOT FOR GARY BUSEY!
ALSO…
PUCK WAS IN A NEWSPAPER!!! FOR, like, ONE DAY!
On Friday of last week, the Hamilton Spectator (my local daily) ran a profile on Puck. What's more, the article was written by the fabulous Jeff Mahoney, a humour and human interest writer that I've been a big fan of for decades. There's nothing like getting praise from a writer whom you've long admired. You can check it out HERE!
ALSO ALSO…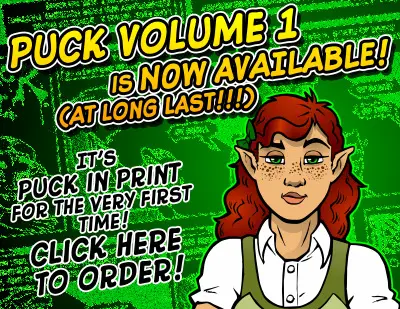 As for this comic…
This is (thankfully) the last time I will have to draw Phoebe in this outfit. It was a cute concept, but it's had its day. In fact, its day came and went over a month ago.
This comic wasn't entirely necessary in the story arc, but I thought a major plot hole like this needed to be dealt with. Where will Daphne and Phoebe stay? Now you know.
Phoebe just isn't the type to rough it. And I don't blame her.
And hey, 256 comics! That's a big thing in binary!