Puck 257
on 
October 27, 2014
at 
10:05 pm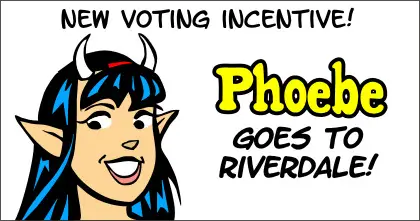 New Weekly Voting Incentive: PHOEBE GOES TO RIVERDALE!!!
For a long time, people have noted that Puck plays out a little like a demented version of Archie, so I thought, "Why not?" This month, a vote for Puck on TWC gets you a look at my progress on a Puck and Phoebe Double Digest cover!
CLICK HERE TO VOTE FOR PUCK! TONY THE TIGER WANTS YOU TO!
ALSO…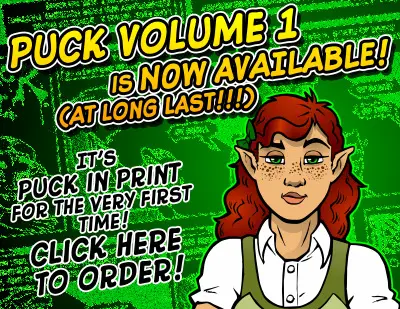 As for this comic…
For those who don't know baby showers, Satan is correct in his observation. What he doesn't say, of course, is that it is the role of the other women to get downright nasty, and make lots of portentous warnings about how the childless young woman will one day have colicky twins and saggy boobs and barf in her hair.
My wife got enough of this treatment in her younger years. "Well, you haven't had kids yet, obviously," a matronly peer once hissed at a gathering, looking at my wife's thin waist with a critical eye. "Just wait till you do." Well, two kids later, my wife's still the same size she was then, so suck it, ugly moms!
FYI: it's long been a dream of mine to have my mail brought to me on a silver serving dish. Not sure where this dream comes from, but I can at least include such a dream in this comic.