Puck 258
on 
November 3, 2014
at 
10:14 pm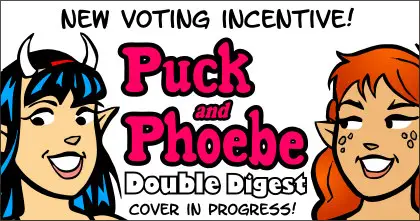 New Weekly Voting Incentive: PUCK AND PHOEBE GO TO RIVERDALE!!!
For a long time, people have noted that Puck plays out a little like a demented version of Archie, so I thought, "Why not?" This month, a vote for Puck on TWC gets you a look at my progress on a Puck and Phoebe Double Digest cover!
TWC does seem to be glitching on me right now, so if the pic's not showing up right now, you may want to try back the next day. I've sent them an email in the hope that they can fix this problem.
CLICK HERE TO VOTE FOR PUCK! TONY THE TIGER WANTS YOU TO!
As for this comic…
This is one of those 'five minutes before I post the comic, I become very unsure as to whether it's actually funny or not' comics. My wife said that it wasn't exactly funny, but that it did qualify as 'cute'. If it even qualifies as mildly amusing, I guess that's something. Oh well. Too late to do anything about it now!
All I can say is that this comic most certainly will qualify as one of the top 500 totally free comics you may potentially read this week.
That's all I'm ever aiming for, I guess.