Puck 259
on 
November 10, 2014
at 
9:30 pm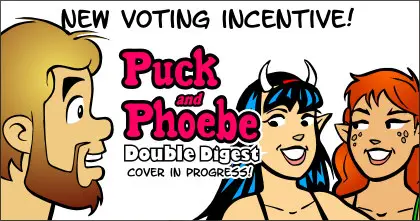 New Weekly Voting Incentive: PUCK AND THE GANG GO TO RIVERDALE!!!
For a long time, people have noted that Puck plays out a little like a demented version of Archie, so I thought, "Why not?" This month, a vote for Puck on TWC gets you a look at my progress on a Puck and Phoebe Double Digest cover!
CLICK HERE TO VOTE FOR PUCK! TONY THE TIGER WANTS YOU TO!
As for this comic…
If anyone's wondering how proud I am of the design for Tracee's outfit, the answer is "Very."
My wife was mildly shocked by the outfit. "That's a bold choice for an all-girls gathering," she commented. "That dress is an official your husband wants to do me dress, which can be very dangerous to wear when surrounded by other women."
Which is kind of the idea, I guess. Into the lion's den!
And for those who don't know their sports gambling terminology, Daphne's just saying that she thinks Tracee has little chance of winning. A point spread is basically like a handicap designated to the underdog team for gambling purposes. Thus the bet would be not whether Tracee loses, but whether Tracee loses by more than four points. Which, of course, begs the … Wait, I'm explaining the joke again, aren't I?