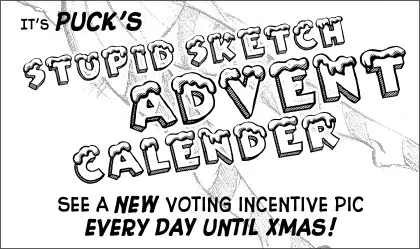 New Weekly Voting Incentive: PUCK'S STUPID SKETCH ADVENT CALENDAR!!!
It's a Stupid Sketch Puck Advent Calendar! Count down to Christmas with 25 holiday-themed sketches! Instead of putting a whole bunch of effort into one really good pic, I made 25 mildly crappy yet entertaining ones! Vote to see today's special pic!
CLICK HERE TO VOTE FOR PUCK! GET OFF THE NAUGHTY LIST!
As for this comic…
Two whole panels with nary a dialogue bubble? Hard to believe but true.
My wife concurs with Heather that Phoebe's and Tracee's dresses are insane. Though my wife also says that Heather's dress is as trashy as that demographic ever gets (barring minor variations depending on the exact background and socio-economic stratum she hails from). I dunno.
I wanted Heather's dress to look like legitimate fashion, made for legitimate rich people. I wanted Phoebe and Heather to look like they bought their dresses from that questionable place in the discount mall – even if they actually paid a lot money for them.
I think it's close enough.