Puck 262
on 
December 1, 2014
at 
9:44 pm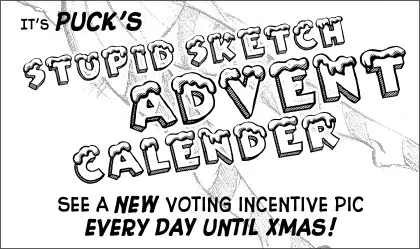 New Weekly Voting Incentive: PUCK'S STUPID SKETCH ADVENT CALENDAR!!!
It's a Stupid Sketch Puck Advent Calendar! Count down to Christmas with 25 holiday-themed sketches! Instead of putting a whole bunch of effort into one really good pic, I made 25 mildly crappy yet entertaining ones! Vote to see today's special pic!
CLICK HERE TO VOTE FOR PUCK! GET OFF THE NAUGHTY LIST!
As for this comic…
Many readers have feared (hoped?) that the Tale of Two Blondes would lead to Heather and Tracee forming a powerful blonde alliance, but (as can be seen clearly in this comic) that can never happen.
Readers have noted – and rightly so – that Heather and Tracee, though very different on the surface, have very similar characters and motivations deep down. So in theory, they should work well together, right? But here's the fascinating thing about vapid, shallow people like Heather and Tracee: for them, surface differences are the only differences that matter. Anything below the surface, for all intents and purposes, does not exist. They cannot see kindred spirits in each other.
Also, there's only room for one alpha. They're like the Sith that way. Minus the apprentice.
Tracee and Heather may, of course, find themselves united in a common cause at some point in the future, but certainly not right now. As Wilde once put it, "Women only call each other 'sisters' when they've called each other a lot of other things first."