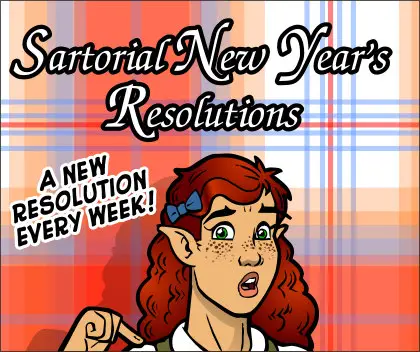 New Weekly Voting Incentive: SARTORIAL NEW YEAR'S RESOLUTIONS!
2014 is behind us, and the Puck gang is vowing to not make the same fashion-related mistakes they made last year! Vote for Puck on TWC to see Puck's resolution right now! A new one featuring Daphne will pop up later this week, so keep voting to catch it!
CLICK HERE TO VOTE FOR PUCK! IT'S RICH IN VITAMIN P!
As for this comic…
This one qualifies as the only Puck strip to ever actually make my wife laugh out loud. She's not prone to uproarious laughter by nature; she'll smirk, or say "That's funny," but real laughter is rare from her. In honesty, I guess it's rare from me too. The number of comics strips I've read that have made me (even momentarily) laugh I could probably count on one hand. But when my wife saw the pencils for panel three (just the image, without the speech bubbles added), she actually, legitimately laughed. I'm proud of that.
I have to admit that I love brass knuckles – the concept, not the actual brass knuckles. I love what brass knuckles say about a character: not that said character wants to kill, not that he wants to necessarily win a fight (I think you'd go with a knife or a gun for that), but that he wants to beat his victim to a bloody pulp with his fists more effectively. On that level, it's a weapon I respect. I also like the fact that brass knuckles are super-illegal in many places, including places where concealed hand guns are totally 100% acceptable. Places like the state of Texas.
If anyone would ever carry brass knuckles in a Coach clutch, it would be Tracee; I feel very certain of that. Some of you might wonder where, exactly, Tracee got that clutch from, given the fact that we haven't seen it in any panels up to now, and the answer is… cartoon space. Believe it or not, I actually planned for her to not be carrying the clutch in earlier scenes, because I thought it just made the whole thing funnier to have it materialize out of nowhere.