Puck 270
on 
January 26, 2015
at 
8:53 pm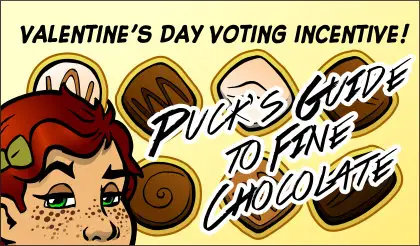 New Voting Incentive: PUCK'S GUIDE TO "FINE" CHOCOLATE!
You know the drill: you get a box of cheap chocolate and it's got a legend telling you what's what, but what's REALLY in those chocolates? Puck's got the answers! Vote for Puck on TWC to find out!
CLICK HERE TO VOTE FOR PUCK! IT'S SATISFYING LIKE CHUCKLAT!
As for this comic…
A word from the book of Kevin Bacon: "From the oldest of times, people danced for a number of reasons. They danced in prayer or so that their crops would be plentiful or so their hunt would be good. And they danced to stay physically fit and show their community spirit. And they danced to celebrate. And that, that is the dancing that we're talking about."
Praise be to Bacon.