Puck 271
on 
February 2, 2015
at 
9:10 pm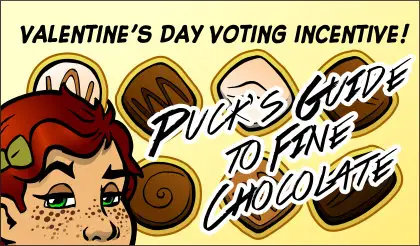 New Voting Incentive: PUCK'S GUIDE TO "FINE" CHOCOLATE!
You know the drill: you get a box of cheap chocolate and it's got a legend telling you what's what, but what's REALLY in those chocolates? Puck's got the answers! Vote for Puck on TWC to find out!
CLICK HERE TO VOTE FOR PUCK! IT'S SATISFYING LIKE CHUCKLAT!
As for this comic…
I think lots of people suspected Stan from Crackistan would show up to this party sooner or later. It's the first time we've actually seen him since his very first appearance! Hard to forget a face like that, though.