Puck 291
on 
June 22, 2015
at 
9:41 pm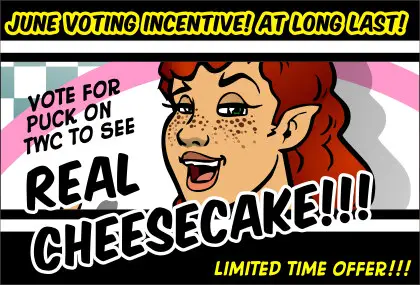 IT'S JUNE! SAY CHEESE!
Every month I run a voting incentive, and every month fans have one question on their minds: "IS IT CHEESECAKE?" If that's your question, then this is your month! Vote for Puck on TWC! See cheesecake! GUARANTEED!
As for this comic…
I am amazed that I finished a comic this week. It's been about the most hectic, madcap week I've ever had, including massive house renovations, massive house problems discovered, many thousands of dollars spent, a Minecraft birthday party for my son on Saturday, final exams in all my classes accompanied by the ensuing onslaught of marking, and a bunch of other stuff I can't even remember. I started this comic on Saturday night, worked on it pretty much all through the night, and it was done on Sunday morning.
I'm tired. But I'm still standing. Cue the Elton John.