Puck 293
on 
July 6, 2015
at 
10:50 pm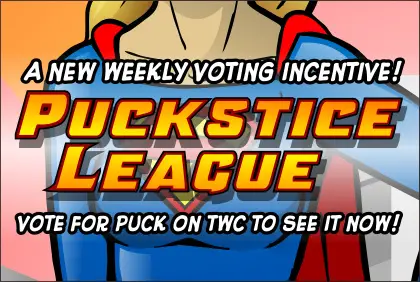 IT'S THE JLA AS YOU'VE NEVER SEEN THEM BEFORE!
I thought it was time to pay tribute to the Justice League of America before Zack Synder takes a steaming dump on the franchise. So every week in July will bring you a new, cool JLA-related cosplay experience, courtesy of the Puck crowd! The second one's up now, so vote for Puck on TWC and take a look!
VOTE BEFORE GORILLA GRODD ESCAPES! (Again!)
As for the comic…
We had to get to the puking eventually. So now we got to it. It can only go downhill from here, I guess.