Puck 294
on 
July 13, 2015
at 
9:43 pm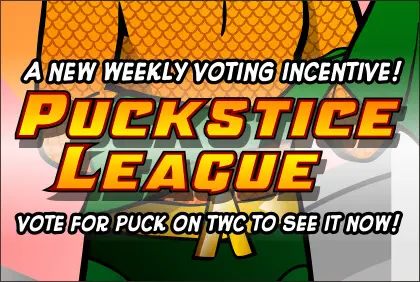 IT'S THE JLA AS YOU'VE NEVER SEEN THEM BEFORE!
I thought it was time to pay tribute to the Justice League of America before Zack Synder takes a steaming dump on the franchise. So every week in July will bring you a new, cool JLA-related cosplay experience, courtesy of the Puck crowd! The third one's up now, so vote for Puck on TWC and take a look! The next one pops up in a few days, so check back soon!
VOTE BEFORE GORILLA GRODD ESCAPES! (Again!)
As for the comic…
I'll readily admit that this comic doesn't totally reflect reality. Phoebe could almost certainly find clothing that would fit Puck in a pinch in any average children's store. Case in point: my wife is about the size of Puck (five foot eight, size two), and when I do the laundry, I can't help but notice that some of her clothing is the same size as (or even slightly smaller than) my nine year-old son's clothing. My own shirts, by comparison, always seem huge, like they're tents or parachutes or something.
Maybe the clothing shop that Phoebe found was only for really little kids. If 5T was the biggest size they carried, the end result would look something like this. Though I think that it would be physically impossible to get into those clothes as depicted here.
Like I said, comic doesn't totally reflect reality. Often.