Puck 302
on 
September 7, 2015
at 
7:57 pm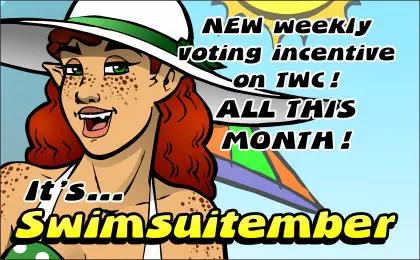 NEW WEEKLY VOTING INCENTIVE! THE MONTH OF SWIMSUITEMBER IS UPON US!!!
September is a month that has historically suffered a marked lack of swimwear. Thus, like a modern Robin Hood, I've planned to steal from the richness of my pen and give swimsuits to the poorness that is this dreary month. It's SWIMSUITEMBER, BABY! A NEW ONE EVERY WEEK!
VOTE FOR PUCK ON TWC!!! 10% of every vote goes straight to Elvis – guaranteed!
As for the comic…
Look! Something actually happened in this comic! To those of you who say "What gives? Why nothing ever happen in comic?" I say "Look. Something on fire."
Something! On! Fire!
If that's not plot, I don't know what is.