Puck 303
on 
September 14, 2015
at 
10:27 pm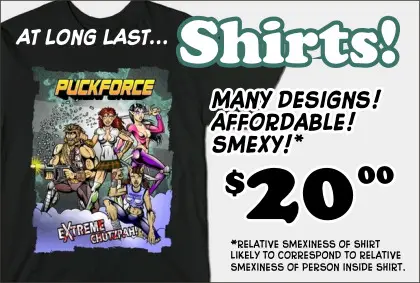 PUCK SHIRTS ARE FINALLY GO!!!
If you've ever wanted to wear a little bit of Puck, you're in luck! There's now an entire line of shirts with all sorts of designs! I've also put up many of Daphne's weird shirt designs. Heck, you can even order yourself a Howlers tank top if you want! People have asked for all of these at one time or another, so I'm finally providing. Check out the selection! All the designs can be placed on multiple colors and styles of shirt, so experiment and go nuts!
GET THE HOT POWER OF 100% COTTON ON YOUR BOD NOW!
ALSO…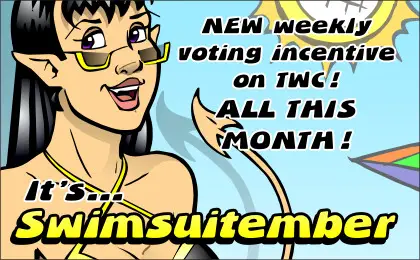 NEW WEEKLY VOTING INCENTIVE! THE MONTH OF SWIMSUITEMBER IS UPON US!!!
September is a month that has historically suffered a marked lack of swimwear. Thus, like a modern Robin Hood, I've planned to steal from the richness of my pen and give swimsuits to the poorness that is this dreary month. It's SWIMSUITEMBER, BABY! A NEW ONE EVERY WEEK!
VOTE FOR PUCK ON TWC!!! 10% of every vote goes straight to Elvis – guaranteed!
As for the comic…
Puck appears in the comic that bears her name. What a surprise! I'm having more fun than I rightly should drawing her in that trailer trash outfit. I think it shows. And for the record, the word 'toots' really needs to come back into common parlance, along with the words 'swell' and 'piker'.