Puck 304
on 
September 21, 2015
at 
9:22 pm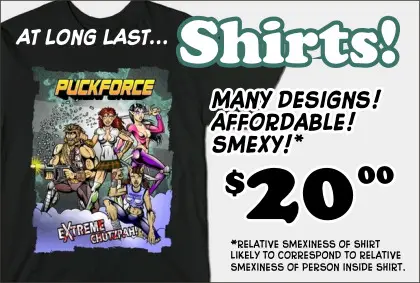 PUCK SHIRTS ARE FINALLY GO!!!
If you've ever wanted to wear a little bit of Puck, you're in luck! There's now an entire line of shirts with all sorts of designs! I've also put up many of Daphne's weird shirt designs. Heck, you can even order yourself a Howlers tank top if you want! People have asked for all of these at one time or another, so I'm finally providing. Check out the selection! All the designs can be placed on multiple colors and styles of shirt, so experiment and go nuts!
GET THE HOT POWER OF 100% COTTON ON YOUR BOD NOW!
ALSO…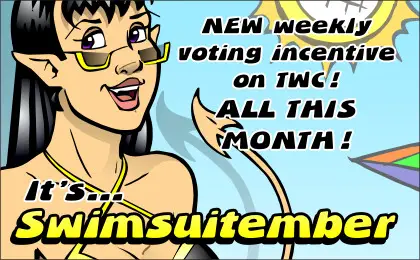 I RAN OUT OF TIME TO DO A NEW ONE!!!
I was planning something stupid with Papa Shnorf in a thong or something equally dumb, but guess what? That scarring visual will just have to go unrealized, because school's started back up and I'm running out of time to do stupid pictures of Papa Shnorf in a thong. So the Phoebe one's still up.
VOTE FOR PUCK ON TWC!!! 10% of every vote goes straight to Elvis – guaranteed!
As for the comic…
There are two super-enormous super coasters at the real world equivalent of Canada's Funderland. One is 'The Behemoth' and the other is 'The Leviathan'. I sort of merged the two to form 'The Monstrosity', which I'm sure is the name of a real coaster somewhere, but I didn't bother to look it up. I just thought it sounded right.
The Leviathan is, by the way, 306 feet tall. And smooth as butter. Seriously, it's one of the most pleasant and comfortable coasters I've ever been on. I'd recommend it to everyone but Phoebe.