Puck 317
on 
December 21, 2015
at 
9:13 pm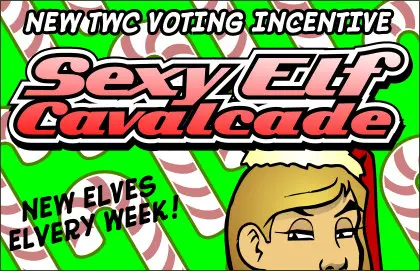 VOTE FOR PUCK ON TWC AND GET FESTIVE!!!
I ask you: who doesn't want an excuse for trashy holiday outfits and horribly awful elf puns? Obviously not me, so step right this way! Puck gang continues a festive tradition of sexy elves. Because, well… Because. That's the best I can do.
VOTE TO GET ON THE NAUGHTY LIST, WHERE ALL THE COOL KIDS ARE!
As for this comic…
We jump back to Colin now to sort of unify this whole story arc. The characters have been split up for a while now. Since June, actually. Wait, only a few hours of story time have passed since June? Sigh.
Papa Shnorf also makes his return. We'll learn more about him in coming weeks, I think.