Puck 318
on 
December 28, 2015
at 
10:26 pm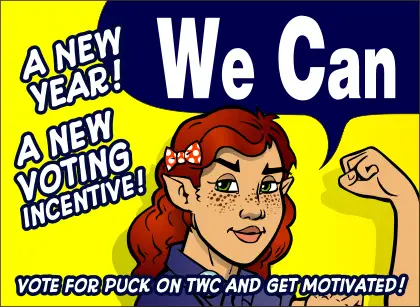 VOTE FOR PUCK ON TWC AND GET INSPIRED!
Happy New Year! If you want to start 2016 right, you'll want to see Puck's motivational poster. (Yes, it's inspired by Rosie the Riveter, but the message has been considerably improved. Words to live by!)
VOTE TO FEEL THE OVERWHELMING POWER OF DEMOCRACY RUN THROUGH YOUR VEINS!
As for this comic…
If you must needs touch a strange man's rear, is it more or less disturbing to know that said man is wearing a big, soft mascot costume? I really can't say, personally.