Puck 344
on 
June 27, 2016
at 
10:15 pm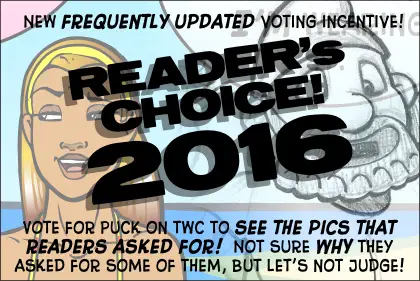 NEW VOTING INCENTIVES THROUGHOUT JUNE READER'S CHOICE 2016!!!
There's a new voting incentive up on TWC! It's READER'S CHOICE 2016! Where I take the suggestions from YOU, the reader (or some other weirdo) and turn them into sketches or finished pics! A new one's up this week, so check it out!
CLICK HERE TO MAKE LEARNING FUN!
As for this comic…
The Hotdog Guy makes his requisite periodic appearance. Honestly, the Hotdog Guy is such an infrequent character that I always end up getting confused questions from people wondering why Puck is holding a hotdog inside a psychiatrist's office. For those who are confused, just know that the Hotdog Guy is a hotdog vendor AND a licensed psychotherapist. Just go with it.
Oh, and for those who are wondering, the Hotdog Guy is playing My Singing Monsters on his tablet. It's the thinking man's waste of time. His friend code is 33596138HI for those who need to know.