Puck 345
on 
July 4, 2016
at 
9:53 pm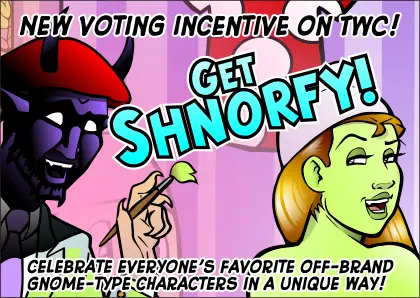 NEW VOTING INCENTIVE: GET SHNORFY!!!
There's a new voting incentive up on TWC! If you've been following the comic over the past few weeks, you know where this is going. And you know whether you should be scared or excited.
CLICK HERE TO MAKE LEARNING FUN!
As for this comic…
Major corporations and organizations do indeed often have a policy regarding pay-offs for people injured on their property. They don't obviously publicize this info, but if you're asking for a few grand (instead of a few million), they're inclined to just give it to you.
Oh, and if you're ever going to feign an injury, make sure it's a soft tissue injury, like a muscle sprain or the like. They're undetectable by x-ray, hard to medically disprove, and they're the shady personal injury lawyer's bread and butter.
This is, by the way, the very last comic relating in any way to the Canada's Funderland story arc. We're off to uncharted territory from here on in. (Uncharted territory, BTW, means a few one-off gags followed by a much shorter mini story.)