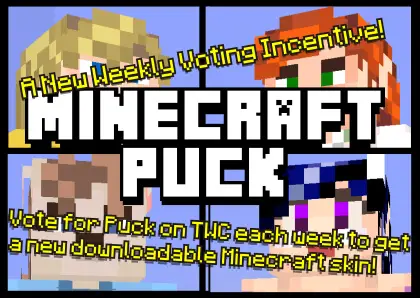 Travel to the land of blocks and straight edges with the whole Puck gang! All during October, a vote for Puck on TWC will get you some nice pics of these skins in action, AND the ability to download the skins for free to use in Minecraft (PC/Mac or PE)!
Vote for Puck on TWC to love the Creeper inside all of us!
ALSO…
There's a new reward tier on my Patreon feed! Become a MASTER OF THE VOTING INCENTIVES!!!
$5 a month now gives YOU a say in what Puck voting incentive images I draw for the future! The possibilities are endless! You could suggest a joke or gag! You could request a cosplay costume for Phoebe! You could send me a pic of an outfit that you'd like a character to wear! Whatever! Supporters at this tier get to suggest and vote on what incentive pics they'd like to see. So come on!
BECOME THE PUPPET MASTER!!!
As for this comic…
Well, the end of the world is clearly at hand. Because this happened.