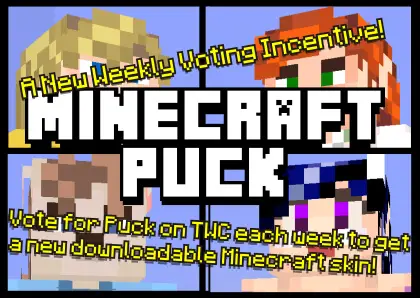 Travel to the land of blocks and straight edges with the whole Puck gang! All during October, a vote for Puck on TWC will get you some nice pics of these skins in action, AND the ability to download the skins for free to use in Minecraft (PC/Mac or PE)!
Vote for Puck on TWC to love the Creeper inside all of us!
As for this comic…
This is based soundly in reality. My wife and I were, for a long time, really too poor to buy much of anything, and we didn't buy Kleenex. That was way too posh for us. Rather than newspaper, though, I used toilet paper to wipe my tender nose. And I still do. Because we learned to live without Kleenex, and even when the money was more plentiful, we never went back. We are barbarians.
For those who are interested, there's an alternate version of this comic up on my Patreon feed right now featuring a totally different joke. The alternate version might be funnier. It might not. Seriously, I can't really say. But it might be worth a look.