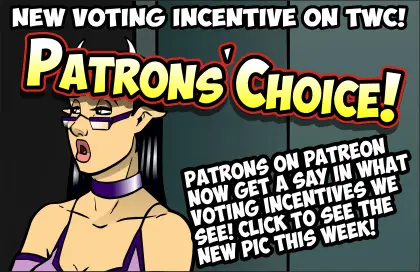 THE PATRONS HAVE TAKEN OVER!!!
That's right! For the month of November (and probably beyond) the voting incentive pics are in the hands of the fans! Patrons on Patreon who pledge $5 or more a month get a personal say in what incentives are coming your way! If YOU want to put your two cents in, then my HEAD ON OVER TO PATREON and join the select club!
See what all the fuss is about!
As for this comic…
I think some people could tell something like this was coming down the pipes. I mean, blondes emit a certain gravitational force that affects other blonde matter. They coalesce to form massive blonde celestial units – some even collapsing in on their own weight to form blonde holes in the space-time continuum.
On another note, I'm sort of happy with Tracee's outfit. It rides the perfect line between trash and class. It's trashy class. Or class trash. Either or. (Is there a difference?)
And 365! That means that, after almost twenty years of comic labor, I finally have the same number of comics that Garfield did after one year in production! Impressed? I should hope so!