Puck 383
on 
March 27, 2017
at 
10:17 pm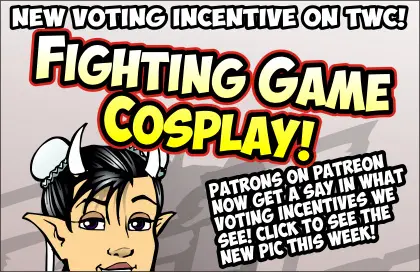 NEW VOTING INCENTIVE!!! FIGHTING GAME COSPLAY!!!
Have you ever wanted to see some of the Puck cast dressed as characters from fighting games? NO? Well, someone did! Whichi is why you're seeing this! Patrons on Patreon who pledge $5 or more a month get a personal say in what incentives are coming your way! If YOU want to put your two cents in, then my HEAD ON OVER TO PATREON and join the select club!
As for this comic…
While working on this comic, I somehow subconsciously copied the framing and overall layout of this comic, which is kinda awkward seeing as that was the most recent Hotdog Guy comic since this one. Heck, Puck is even wearing a striped shirt in both comics! Enh. Whatever. Let's call it intentional paralleling – to emphasize the contrast, or something like that.
Besides, that previous comic doesn't even count, because it was all a dream! So … yeah.