Puck 384
on 
April 3, 2017
at 
10:05 pm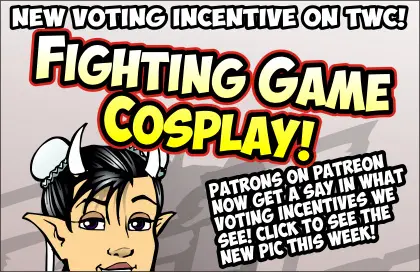 NEW VOTING INCENTIVE!!! FIGHTING GAME COSPLAY!!!
Have you ever wanted to see some of the Puck cast dressed as characters from fighting games? NO? Well, someone did! Whichi is why you're seeing this! Patrons on Patreon who pledge $5 or more a month get a personal say in what incentives are coming your way! If YOU want to put your two cents in, then my HEAD ON OVER TO PATREON and join the select club!
As for this comic…
You people say that Puck never appreciates Colin. Well, I wanted to give you SOLID PROOF TO THE CONTRARY.