Puck 405
on 
August 28, 2017
at 
10:15 pm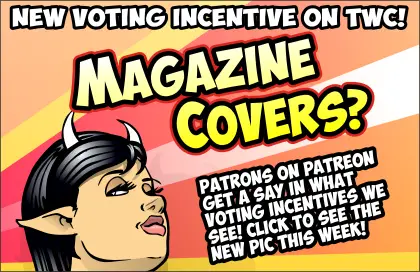 SEPTEMBER WEEKLY VOTING INCENTIVE!!! MAGAZINE COVERS!!!
The Puck cast appears on their own individualized magazine covers! How? I don't know how! Why? That's a mystery too! And remember, this voting incentive was chosen by special fans who donate $5 or more a month! If you want to join their controlling ranks, HEAD ON OVER TO PATREON and join the select club!
As for this comic…
This is actually how a radical orchiectomy is done: in through the body, down, then YOINK, back up. Or something like that. It makes the surgery much bigger than you'd imagine, and the recovery time is pretty lengthy due to all the muscle they need to cut through.
I wish the sprinkles made it better.
Side note: I'm very proud of the 'Rankin Bass' branding on the ice cream shop in panel four. In fact, I went so far as to design a t-shirt of the logo. If you want to see that, or any of my other many goofy t-shirt designs, you can GO TO MY SHIRT STORE and check it out!